Entire contents copyright ©1994-1998 by Doctor Thaddeus Ozone, all rights reserved.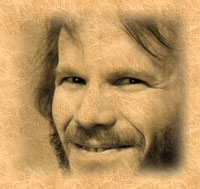 That's Me! Hi there, I'm Doctor Thaddeus Ozone, (born Kevin Thomas Doyle.) I live under my own name, but I've been publishing under the DocOzone pseudonym for so long, I'm kind of stuck with it. Such is life, could be worse.
I'm an artist, and I'm a philosopher. I use tools, and I use them very well. One of my biggest edges in this industry is my ability to learn new tools fast. One of the other is I never abandon a tool once it's proven useful; many of my coolest things come from using somewhat dated technology to create some pretty cool effects. I use my tools, and I bleed every drop of use out of them.
I've been a designer all my life, and have worked (on and off) at it for over twenty years now. In my life, I've been a warehouseman, a street peddler, an itinerant artist, a truck driver, an auctioneer, a comic book artist, a furniture designer, a screen printer, print designer, and, of course, a web designer. It's been a cool life so far, and I'm like it pretty well, I don't expect it to get boring anytime soon. Life is good.
---
EVEN MORE IMPORTANT UPDATE! (october2001)

Wow, I should update this page more often! I left USWeb/CKS, after they changed their name to "marchFIRST", but before they went bankrupt, putting 8000 people out of work! (Not my fault, honest! Can you blame me just because so many companies I used to work for go bankrupt? No, I say no!) I started my pown firm called Primal Content, but given the sad state of the internet economy I had to put it into "hibernation" for a while, sigh. The good news, though? Now I'm looking for a job again! Well, good news for you, maybe, but I dislike looking for a job, whatta pain.

(REALLY) IMPORTANT UPDATE! (december1999)

Heh, has it really been a year I've been in Stockholm? Looks like it has. Hey, guess what, now I have a *new* new job! As of the first of the millenium I'll leave CMA Comedia and start working for USWeb/CKS, setting up their first Swedish office, working as Creative Director, woo! Live in Sweden, damn good at what you do, and need work?

IMPORTANT UPDATE! (Old and outdated, december1998)

Well, I went to Stockholm, and I landed work at a great firm called "CMA Comedia AB". They make a great product called "Galactica" that dynamically generates websites from an Oracle Database, and it really rocks. I'll make a point of adding more links here as time goes by, OK? Skål!
OK, first off, you should know what I do for a living right now. I've been working as a web designer since 1994, when I was asked to make a choice between being the Manager of a local Screen Printing plant, Color Trek, Inc., and my "hobby" of web design. I opened Apocalypse Studios 4 weeks later, I had enough contracts on my desk to match and better my old salary! No brainer, that.
I lived off of freelance contract for the next three years, building a good client base, but still, always getting the bulk of my attention from my "OZONE" site. This whole site started out because I got teed off that I couldn't find any pictures of the SKY on the internet. I'd already done Compuserve from *way* back, and then AOL and Delphi, posted a few of my artworks to them, but when I got my first real ISP, I wanted to *find* things. Nothing, nada, no pictures of sky. What were people thinking? I collected a dozen, then three dozen, and there's an archive! Downloadable for free, no credit asked or expected. People were pleased. The format seemed to work for folks too, I liked building the interfaces.
Pretty soon, interfaces were the main thing I did. I always needed backgrounds to set them up on, so I started offering my backgrounds archive. Still it grew. So many people asked me questions, I got sick of writing out the explanations in email, so I built the "Hands-On" tutorial site to handle them. I can't seem to keep myself from answering questions, and it pays off for me. One of my employees right now started as an email student of mine when he was 16! (He's 19 now. Helluva talent, I was glad to be able to hire him.)
Oh, did I mention I'm employed? I got sick of being freelance just over a year ago, and went to work as Creative Director for VISI.com, my ISP since the very beginning. They already knew me very well, I sit there and eat 30% of our outgoing bandwidth each and every month, I get a *lot* of hits. I get an average of 150,000 hits/day at my personal site, making about 3,000 visitors a day. Yow! Since I started at vector, I first changed the whole look & feel of our logo, (see the archive.) Included with this package was a whole series of print advertisements and tradeshow displays, I came from the print industry, remember? They get some good intangibles, too, last month I referred over 45,000 visitors to my employers website, that was pretty cool.
I prefer Macintosh computers, and have had over 7 years maintaining them, upgrading them, and customizing them. I can do *anything* with my Macintosh, as long as they keep making them. Windows95 and 98 I'm proficient with, but I don't care for the OS very much. Still, once I'm in my favorite apps, it works well enough, I can easily translate my quickkey combinations, I had to do that when I was technical editor on "Photoshop Web Techniques", by New Riders Press. Computers are just tools, and I can use tools.
Here's some of the things I know...
Adobe Photoshop 4.x, 5.0 - Master. (better? you decide. I've been offered "god", but declined.)
Adobe Illustrator 5.x, 6.x, 7.x - Master.
HTML - (like duh) - Master. (I can do stuff with tables you didn't think were possible.)
Javascript 1.0, 1.1, 1.2 - Master. (better? ditto above.)
QuarkXpress 3.x, 4.0 - Master.
Macromedia Director 4.x, 5.0 - Expert.
Macromedia Flash 2.0 - Expert.
Bryce 2.x, 3D - Expert.
PERL (perl is evil) - Functional (but still believing perl is evil, it's a religious thing.)
UNIX shell script - Functional.
J.L.Buchanan, Inc. was the last site I brought online in my tenure at VISI.com. The only customer provided artwork on this site was the shape of their name, all else is original. The companies color scheme was (intentionally) abandoned, and a whole new look was created. 3d panoramams were created of their main showroom spces, using LivePicture so we would not have to be dependent on a plugin (a java solution was available, and we used it.) Another sharp, clean website, one of my favorites.
Dennis Kirk, Inc. is the most experienced direct-mail company in the motorcycle parts industry. They warehouse a huge inventory of over 40,000 parts and accessories to fix or accessorize your snowmobile, street bike, Harley¨, dirt bike, ATV or personal watercraft. Many of these products overlap categories. We took the first 32,000 parts, which was the entire contents of their "Street Bike" catalog, and put them online. Using an off-the-shelf Unix package by Intershop, we built a complete store around this product, using over 400 custom templates and numerous work-arounds. (editors note: rely on custom programming in all similar future profects!) The machine we built on was a Sun UltraSparc 1/170, with 2 4 gig drives (one for the system and one for the database), and 256 MB of RAM. The entire store is backed up twice/day, once as a database dump, and once in our networks global backup. Four of us worked on this project, under my direction. I built the store interfaces and all the subsidiary "store" templates, setting up all the raw functionality. The other three under me were tortured with "ripping" the raw text from the original QuarkXpress files, and cramming it into this new database. The built-in web interface was too slow for us, so I developed a way we could format the info as raw text and import it in bulk lots. Still and all, an immense ammount of work. Visit the store at "DK-Online Storefront". Don't neglect the main storefront, it's a discreet unit from the storefront.
RecruitUSA aims to be focal point for online recruitment and job searches. With alliances with Classified2000, the Monster Board, Restrac, Inc. and Yahoo, they are primed to own this market. They don't just rely on applications and jobs sent directly to RecruiUSA either, we've set up an entire USENET newsfeed just for them, listing *only* the *.jobs and *.jobs.wanted newsgroups. A series of filters strips the postings of advertising, filtering for spams, and drops the jobs or resumes into a searchable database within 20 minutes of it's entry onto our system. Our system administrator built the custom newsfeeds for this system, and our webmaster Doug Rau built the rest of this machine, incorporating tthe Verity search engine. My contribution to this creature has been mainly graphical, taking their logo image and creating an entirely new look & feel for this system. The entire system includes 3 distinct interfaces, and an assortment of over 50 headers (all built in pieces for maximum re-usability!) Also included in this project was a wide variety of advertisment banners, as well as the more corporate looking print materials for standard correspondence and their tradeshow. A big job, and one that seems to be making the right moves, they'll be around for a while.
EJ'S SUNGLASSES sells sunglasses. Lots of them. To quote their page, "EJ's Sunglasses carries over 20 popular brands of sunglasses. The same sunglasses you would find in a typical retail outlet. While we offer the same sunglasses, EJ's sunglasses brings them to you at a lower price and a higher level of service."

EJ's, like many of our other bigger stores, lives on a Sparc Ultra 1/170. Good machine, stable, takes a lot of pounding, and runs fast. Solaris is our OS, and Apache is the webserver, good combo. EJ's is in their next stage of growth, we've just upgraded them from a virtual host to their own machine, and now the next decision is how next to upgrade their software package. What they have now is mostly a kludge by todays standards, but totally bleeding edge 3 years ago. What next? One of the commercial store packages? (The database is primed for importing.) Maybe a custom programming option? I hope so, we need things a store bought package can't give us. It all boils down to how much they're willing to spend, but we can do it.
UsedCity.comTM was another "from the ground up" creations. Again built on the Sparc Ultra 1/170 platform, we built a SQL database system to handle the interactions for this Used Car site, and created the whole look & feel for their operation. The whole purpose of this site is to place ads, with pictures, for $10US each. Ads auto expire within 30 days with an automated email for possible renewals, profiles for individuals placing ads, and a wide variety of search options. It works pretty well. I flowcharted the entire operation of this store, and worked with one of our database programmers, Steve Ulrich, to finalize the project. While the store is currently built and operational, it has not yet been saturation marketed.
Aircraft & Marine Insurance Agency, Inc.. Hah! What a great little site, Six pages for one of Vectors oldest clients, his old site was an embarassment; because we did it. Before my time, fortunately. Still it was a functional site, and we gave them a good facelift, keeping costs low. I love this little site, very neat.

Koch Trucking - Minneapolis/St. Paul, Minnesota was one of the first sites I actually *didn't* do the graphics for. Erich Andren, the guy I mentioned who's worked with me since he was 16, took this on as his first "solo" project. I *tortured* him with this one, check out the wacky table construct he ended up creating based off of one of my ideas! (I'm a meany.:) Still, a great chance to teach tables, javascript, Photoshop Lighting Effects, and basic customer interaction. Hah!
Clients waiting to go Online
Swenson Anderson Associates, Inc.


Swenson Anderson Associates, Inc. (old)
Ah, well, an insurance company. Content and speed drive this site, that was the primary concern. The look and feel is quite simple by my usual standards, and the interfaces will morph in the next couple of weeks.

It's About Games! is planning to take FuncoLand to their knees. They sell new and used video games, and we're expecting between 5-10,000 SKU's. These guys have the dough to pull this project off, and don't sem afriad to spend money. (They started their intro into this business by buying a chain of 40 stores!) While we were the high bidder on this project, we still landed it because we were the only ones to asks the smart questions, it was obvious we've done this before, and can pull it off again. This is just a link to a spec splash page, we expect to take 2-3 months on this project.
Older Vector Clients
This was at the start of my tenure at Vector Internet Services, from May 97 till the end of the year. At first, it was just myslef, but towards the end of the year made my first hire, Conal Garrity of the Minneapolis MusicScene. Conal did mainly the text content at the start, but he's continued progressing at this business.
Apocalypse Studios was a one man shop. Mainly I concentrated on folks who wanted me to build them a framework for their site, building all the direrctory structures, and the interfaces and buttons to make them work the way they wanted. This is just a sampling of works from those times, some of it wasn't that all good, some of it is no longer on the net, and some of it still lives inside Intranets. Here's some of the more intersting pieces from this period.
Minnesota Planning